Sweden in February: Fika, Friends and Falling on your Face


When thinking about what to write for this blog, I try to think of what I would have personally wanted to know before I came to Sweden. In the midst of my final year at University, I hastily sent away my application at the end of 2013 with no real expectations but only a general idea of where Uppsala was. Once it dawned on me that I'd be moving to Sweden, I began to panic about finance, housing and travel but mostly what life in Uppsala would be like. Would I like it? Is there enough to do? The latter can only really be answered by one in a similar position, someone who has experienced life as an international student here. Sure, your future teachers can tell you a lot but I'm sure it's more informative to hear first-hand stories and experiences from students like you who are new to this.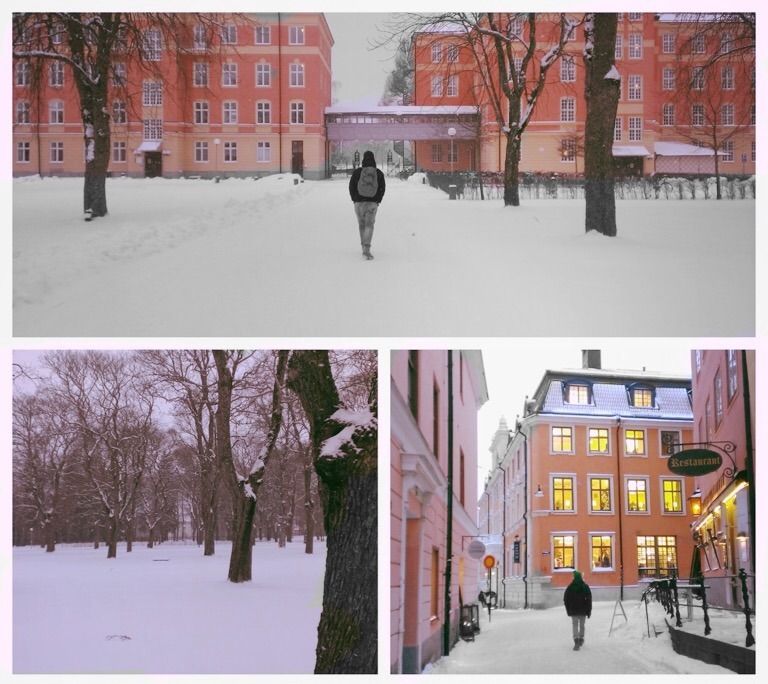 Snow makes everything look so pretty in Uppsala!
If I could go back and ask myself what I would have wanted to know about life in Sweden before I applied, I guess the most part would be costs, my course and travelling, but above all, I would want to know what day to day life would be like, what would time outside of the classroom be like? I can try to inform you as best as possible through my posts and I hope the photographs help too so here we go!
I'm still in the process of moving my things from one place to another. Since I finally hand in the keys this week to my old place, the last things need to be sold or carried to my new place. Now, I don't have a car, nor do I have very much money, so me and Claire packed our bikes like donkeys and headed north to our new homes. Mind you, snow and unbalanced heavy bikes don't mix and Claire's lack of grip meant her bike landed on mine, my bike landed on me and I landed on the ground crushed by two bikes with everything on it.
Claire doesn't actually smoke cigars nor does she own a fez, but I thought I was rather funny – moving house cycle style.
Speaking of my bike, it's so incredibly rusty. I was in a rush for the airport so I left the poor thing locked up outside for 5 weeks over Christmas. Besides the fact it rattles when I ride, it still works. Oh, and that the lettering has also rubbed off so much that it looks like a certain colourful 'C' word expletive has been printed across the side. I dare you to look at it and I bet you'll agree, I probably unintentionally offend the city on my commute but it looks more like I'm notifying the world of what is passing by since I ride my bike like one.
There's still so much snow and I haven't yet made a snowman! Once you pass the age of 21, it seems people aren't huge fans of the snow anymore. I could always make one on my own; I did see a guy happily building a snowman on his lonesome today. Good for you lonely snowman building guy, good for you. I've been back a month already, crazy but true. As I prepare to head home for a few days, I look back on what a stressful yet productive time it has been since I got back to Uppsala. I've moved house, I've started a new course (exams and assignments galore already) and I've managed to bike in snow up icy hills every day.
If I'm not in class, I'll either be in one of the many libraries Uppsala have or found in a supermarket. The dangers of studying at home mean you eat whenever you feel like it and I've found my fridge emptying faster than hoped hence the recurrent trips to buy food. I have also been very lucky to make the acquaintance of an Italian who just so happens to love cooking! My flatmate Klara and I just ring him like a takeaway delivery service and he's over in a flash laden with groceries. Of course, I take pictures in the process for his cooking blog as a thank you.
I also love nothing more than hiding myself away in the corner of a cosy café and indulging in a creamy hot chocolate and a Swedish pastry/cake. I'm sure I'll update you in the future on the wonderful 'fika' available in Uppsala. For you Italians, yes I know what that word means in your country, Davide so kindly told me aha, but here it means to take a break with coffee and cake!
Yet again, Claire doesn't wear a crown in public – Fika with Blueberry Semla (very Swedish!) and hot chocolate (yum!)
Today I was notified that it is my national name day here in Sweden (February 9th), so happy name day to me! (Not a game of thrones reference unfortunately).